WHAT IS THE RELATIONSHIP OF THESE 2 SETS OF DHARMAGUPTAKA MATERIALS?
I have become interested because Pure Land, Chen and Forest Tradition not only use Dharmaguptaka Vinaya for but Pure Land and Chen use it for a Mahayana career.
AND it is said the Dharmaguptaka Vinaya IS a Mahayana Vinaya if used in conjunction with a Bodhisattva Vow.
There are two items identified in web searches for the words "Dharmaguptaka Pratimoksha". What is the relationship of the materials they provide. Both are Vinaya.
First:
Dharma, Dr. Wonji, and Ven. Dr. Sunyananda Dharma. 2016. The Dharmaguptaka Bhiksu Pratimoksha with Ordination Ceremony. Kansas City: Buddha Dharma University Press.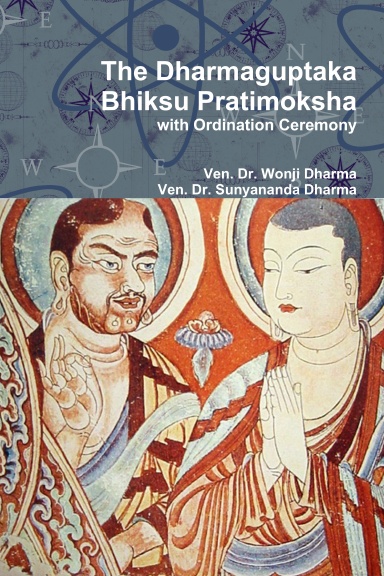 purchased at:
https://www.lulu.com/shop/ven-dr-sunyan ... pageSize=4
an equivalent of the second folio of the Brahma Net Sutra, a list of the major and minor infractions by category.
and
Second:
Dharmaguptaka Vinaya | An English translation of ...
https://dharmaguptakavinaya.wordpress.com
Much Sutra-like material.
———————————
And wait. If you open your browser in the next 60 minutes!
Final Revised Pratimoksha A5 PDF.pmd
[url]
http://users.libero.it
› seza › revised_pratimoksha
PDF[/url]
of many venerable monks who have practiced in Plum Village during the past twenty years. REVISEd pratimoksha. Recitation Ceremony of the Bhikshu Precepts
AND
Dharmaguptaka Vinaya Bhikṣu Poṣadha and Rites
https://thubtenchodron.org/wp-content/u ... ecured.pdf
AND last but not least
https://www.google.com/url?sa=t&rct=j&q ... i_8s46MiIo