dzoki wrote:
Interesting.

Did Drubwang Rinpoche have any Dharma-heirs? I mean yogis similar to him, to whom he passed his teachings and pith instructions?
Yes, Khenpo Konchog Tashi Rinpoche is one of his students who is also a yogi. In person, Khenpo Rinpoche radiates great joy to others. He is always smiling and laughing, even though he possesses great knowledge.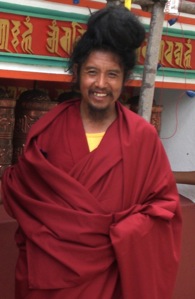 I was fortunate enough to attend several of his teachings and empowerments in Hungary. I've been told that he is currently in another three-year retreat in India. I would imagine that he will give teachings in Europe again after he completes his retreat several years from now.
Here is Google's translation of his bio which posted on an Estonian web page:
Estonian to English translation
Konchok Khenpo Tashi Rinpoche was born in the 1963rd in Ladakh, and he was ordained monk at the age of 9-Lamayuru monastery. Buddhist rituals and prayers, he got a strong side in training in Buddhist philosophy, instructional time, such as Khenpo Kunga Wangchuk Khenchela Thupten and Khenchela. After acquiring the title of Khenpo, or scholar, he taught for eleven years and was the Drikung Kagyu Institute Dehradunis monastic office as an administrator. Many of his students that time is now taken up the activities of Khenpo or meditatsioonimeistritena and provide their expertise in many countries. Dehradunis stay, he studied in depth, and Gong Chik Džigten Sumgöni Drubwang Rinpoche under the guidance of the teachings of others. Khenpo Rinpoche Tashi Drubwang drinking had left a very close student, they had to have a special karmic connection. Tashi Drubwang recognized performance and said: "I've cut off all ties with sansaraga. Now is your task, all those needing to convey this knowledge. "and gave him a sign of confidence in our prayer-mill. 2,001th He underwent a year of strict supervision Drubwang Rinpoche Mahamudra and the six Naropa Yoga ritriidi Tatopanis Nepal. The next three years, he continued devotion ritriiti Nyanyonis Lapchis, Milarepa secret drinking place. 1994th Khenpo Tashi became a five-part idamipraktika Mahamudra and celebrations, and instructions directly to the TP Drikung Kyabgon Chetsangilt. T.P. Drikung Khenpo Tashi Kyabgon Chetsangi blessings are currently pearitriidimeister Almora dividing the camp. By nature a modest and benevolent Khenpo Tashi is especially valued by the students of their doctrines clearly and succinctly in terms of presentation. He also has considerable knowledge in philosophy, Tibetan astrology, and predicted a strong talent. Khenpo Tashi, a dharma master entry into Europe in February and March 2009 is indeed a historic event because it's his first time trip to Europe.
The original Estonian is on this webpage:
http://www.drikung.ee/liin.html