Dear Members,
I watched this movie with my mom who loved Gregory Peck/Audrey Hepburn very much...I was a teenager back then..and I didn't understand why Princess didn't marry the man that she loved..she could throw tantrum until her king-daddy did what she wanted...
If I were her, I didn't care being a princess..a man that handsome..Oh goodbye king-daddy, hello handsome sweetheart!!!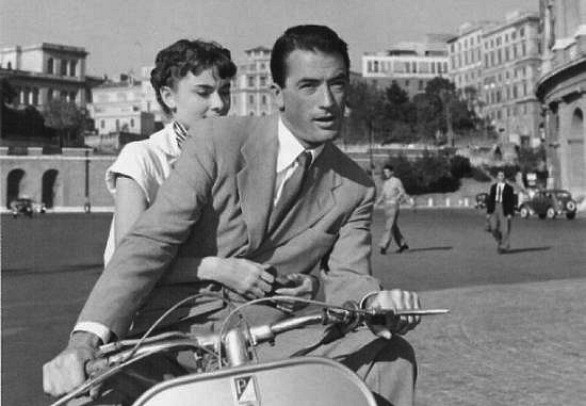 Roman Holiday, starring Gregory Peck/Audrey Hepburn
5.0 out of 5 stars One of the very best of the classic movies from the past!
This should be a must see film for all ages. It has it all....humor, romance, heart felt emotion, and a dazzling co-star...ROME!.
This is the most romantic film I have ever seen, perhaps partly because Miss Hepburn is so wonderful, but also because the script in a sense turns the usual woman's romantic fantasy upside down. Instead of the woman finding that the man she is in love with has fabulous wealth and position, it is the other way around!
The ending manages to be realistic yet romantic. There is a hint of something almost spiritual beyond what happens. So convincing are Hepburn and Peck that one can almost believe the story is true.
I have a weakness for movies about unrequited love, or love that goes on forever, or love that is caught at some perfect moment and lives eternally in that moment. Roman Holiday is one of those near perfect movies that plays beautifully upon one of these themes.
The sets in Rome are charming, especially Peck's bachelor apartment. The bit players, especially Peck's landlord are excellent and the events are dreamy in just the way a romantic meeting in Rome ought to be.
This was Audrey Hepburn's debut in a starring role. She was 24-years-old. Here she plays a reigning European princess visiting Rome who would like an escape from her daily regime of official duties, thus the title and theme of the movie, a Roman holiday.
Gregory Peck plays an American newspaper reporter living in the Eternal City. We first see him playing poker with his cronies, and losing. His relative "poverty" and Princess Ann's fabulous wealth and station present a formidable barrier to their ever finding true love and marital happiness. Part of the fun of the script is in seeing how this will play out and how their differences are resolved in the end.
***********
Love love the movie..tears in my eyes when I watched with my mom years ago...tears when I watched with my hubby today..I'm so emotional!!
Well.. sad movie makes me cry:
http://www.youtube.com/watch?v=XFMfx1Y-aj0
yawares