So there is this ongoing experiment with the following hypothesis:
Periods of collective attention or emotion in widely distributed populations will correlate with deviations from expectation in a global network of physical random number generators.
http://noosphere.princeton.edu/
and...
We hypothesize that our instrument (the network of "eggs") will show anomalous deviations associated with Global Events when there is widespread participation or reaction to the event.
Their gizmo which produces randomness is like this...
All use a quantum level process, either thermal noise or electron tunneling for the fundamental source of random fluctuation. Each device is subjected to a rigorous calibration process based on at least one million 200-bit trials before being placed in service. They have shielding, and we also use a logical operation to eliminate bias from environmental influences such as electromagnetic fields, temperature changes, and component aging.
Now, according to them there is plenty of evidence to support their hypothesis:
Over the 12 years since the inception of the project, over 325 replications of the basic hypothesis test have been accumulated.
...which is neatly represented on their graph here: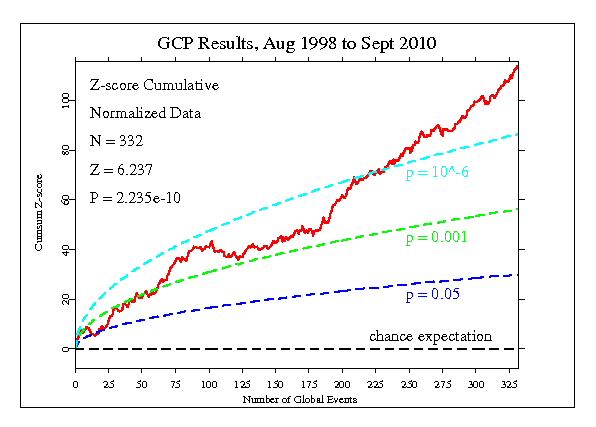 The results page defines the major global events and how their random number generators produce anomalies during said events. Take a look at the individual events and their Z-score (indicates how many standard deviations an observation or datum is above or below the mean):
http://noosphere.princeton.edu/results.html
There was also a predicted deviation that occurred when the building of a Buddhist stupa was completed:
http://noosphere.princeton.edu/stupa.html
The reasoning was thus:
Peter Bancel made a prediction in June 2001 concerning an important Buddhist ceremony dedicating a new Stupa (meditation focus) that would be installed in Colorado in August. He suggested that the Stupa consecration at the Rocky Mountain Shambhala Center would bring a substantial number of Buddhist meditators to a common focus for much of a 9-day period.
Their analysis of Sept 11 is also interesting: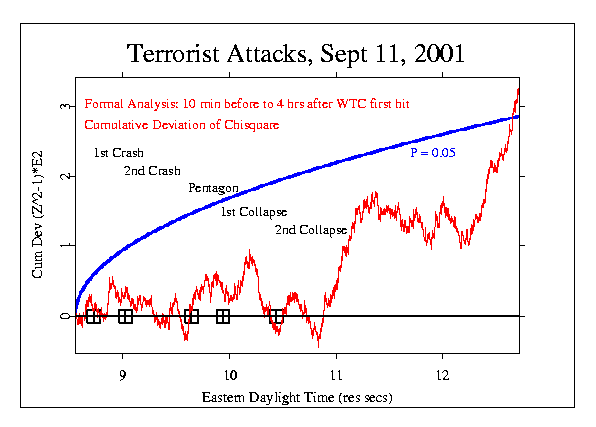 Anyway, I find the results of their project quite intriguing. It all indicates proof of "global consciousness" that actually effects things at the
quantum level
.
I think also it indicates just how significant emotional and mental states are. So much more when they are cumulative among many individuals. It makes meditation, positive affirmation (may all sentient beings be free from suffering!) and prayer all that more significant and powerful.
Basically just thinking positive things has a subtle but real effect in the mind-nexus which is our world. That isn't anything new to Buddhists really, but it substantiates the idea nevertheless. As Buddha said, "This world is led by the mind."