Ven.
Thích Thanh Từ
(1924- ) is a modern Vietnamese Zen teacher of the Truc Lam tradition with monasteries in Vietnam, Australia, USA and Canada.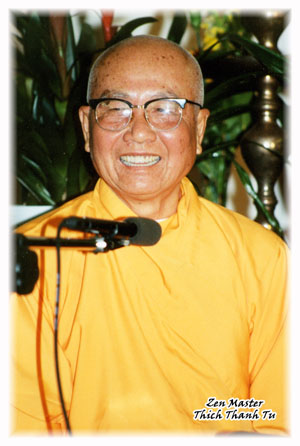 Sources for his teachings and more:
Truc Lam Vietnamese Zen
Dieu Nhan Zen Convent
An introductory work by him:
Keys to Buddhism (PDF)
_________________
"There is no such thing as the real mind. Ridding yourself of delusion: that's the real mind."
(Sheng-yen: Getting the Buddha Mind, p 73)
"Neither cultivation nor seated meditation — this is the pure Chan of Tathagata."
(Mazu Daoyi, X1321p3b23; tr. Jinhua Jia)
"Don't rashly seek the true Buddha;
True Buddha can't be found.
Does marvelous nature and spirit
Need tempering or refinement?
Mind is this mind carefree;
This face, the face at birth."
(Nanyue Mingzan: Enjoying the Way, tr. Jeff Shore; T2076p461b24-26)