Posts: 2393
Joined: Mon Apr 06, 2009 4:21 am
The donkey story features Shr Fu, Master Hsuan Hua.
[deleted dead link]
See July 24 post for working link.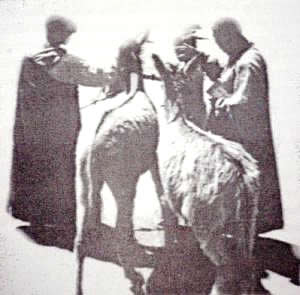 Last edited by
Nicholas Weeks
on Mon Jul 25, 2011 1:07 am, edited 4 times in total.
---
Posts: 179
Joined: Sun Mar 06, 2011 6:29 pm
Location: Currently in Sussex, England. Formerly in Wollongong, Australia.
(PSSST! The link does not work! It leads to a 'page not found')
---
Posts: 2393
Joined: Mon Apr 06, 2009 4:21 am
Madeliaette wrote::oops: (PSSST! The link does not work! It leads to a 'page not found')
I know, I asked why they pulled the page, but no answer.
EDIT - I forgot about this cache version I saved:
Liberating Donkeys

Excerpts from a talk given by Steve Setera, 2011

Dharma Masters, Samaneras and Samaneris (Pali), elderly and all other disciples and guests.

Keene Yong's story: ...Kuo Tsai Schmitz brought the two donkeys back with his truck. His truck pulled one of those trailers that carry horses. I think we borrowed or rented the horse trailer from one of our tenants who has horses or some people from the US government. I do not remember if he had brought the donkey the day before or a few days before the ceremony. We decided to place them in a fence area corral right behind the DRBU building. The fence in area is next to the road that goes up to the living quarters and the road is next to the paint shop and other shops.

It was a Saturday and we wanted to do a liberating of life ceremony after the 12.30 pm ceremony. Kuo Tsai stopped by the office at about 9 am-ish to ask me where to move the donkeys. I called to ask Shr fu [Master Hsuan Hua] and he said bring them to the Buddha hall. I told Kuo Tsai to bring them to the Buddha hall. He left the office and went to bring the donkeys to the Buddha hall. I had to stay in the office during lunch and Kuo Tsai sweating all over came back to the office around 11.40 am and told me he could not move them. They are stubborn and do not want to move. No matter what he does. He…pushed them and even tried pulling them with his truck, they do not want to move. He had helped from one or two other guys too. I think Kanh who is Mai's husband, was one of them who had helped him. Kuo Tsai said he is going to lunch with the other guys and left them standing on the road in front of the library building. After 2 plus hours, that is as far as he can get them.

Someone came to relieve me at the office and at the same time Shr Fu call about the mail. I told him the donkeys are in front of the library building and they do not want to move. I think he kind of chuckle about them. I left the office and walked over to the library building where the donkeys were located. The donkeys were standing near the corner of the front of the library building. I walked towards the donkeys and they stared back at me. They were unafraid and their legs were stiff like rock. I held on to one of ropes of one of the donkeys, patted his head and tried to sweet talk them to move. I told them "Come on, lets go to the Buddha hall." They did not blink or pay attention to what I said. I tried pulling his rope but that did not help. His neck was stiff and he looked at me with his big eyes as if he is saying "what are you doing?"

At that time I saw Kuo Kwei Nicholson walk towards us with his camera. He was ready to take photos of the ceremony. I think he took a few photos of me holding the donkeys too. After a short time Shr Fu came riding on his blue golf cart from building K. I told Kuo Kwei Nicholson to help move the second donkey while I was holding on to the ropes of the first donkey. He has his camera on one hand and the donkey on the other. Shr Fu parked his cart, walked towards the first donkey and patted him on his head. He was reciting something and then he walked over to the second donkey. He patted his head and recited something quietly under his breath. He walked back to the first one and said "chu fwo tan" (go to Buddha hall) and patted a bit harder on his head. (I am not sure what Shr Fu's exact words are. I maybe wrong here. He may have said "Tso lor" ("Go"). If you listen to the tapes that I have recounted the story of that evening or afternoon, I would have said the correct words of Shr Fu).

For no apparent reason, the first donkey started trotting and pulling me along. The second donkey followed suit and pulled Kuo Kwei along too. Now both of us were jogging next to the donkeys. I was afraid they may run away and so I had to hold on to the ropes. Even if they wanted to run away there is no way we can stop them because they were pulling us. They ran on the road and make the first turn after the library building towards the firehouse (this is the south east corner of the building). They came trotting down the hill, passed the fire house, and down the slope passed the restaurant. They make a left towards the Buddhahall and then they stopped suddenly when they heard the recitation from the Buddhahall. At that time we were next to the tennis court. I was happy. It was a compromise location. They were close enough for the assembly to come out and recite the liberating of life for them.

Shr Fu came racing down the slope on his cart. Kuo Kwei and myself looked at each other and we were speechless.


---
Posts: 2393
Joined: Mon Apr 06, 2009 4:21 am
---
Posts: 2393
Joined: Mon Apr 06, 2009 4:21 am
Just an update on one of the burros who was 30+ years old - he died recently.
---
Posts: 116
Joined: Sun Mar 04, 2012 4:57 pm
Location: Texas
Contact:
What a wonderful posting!

---
---
Who is online
Users browsing this forum: No registered users and 10 guests